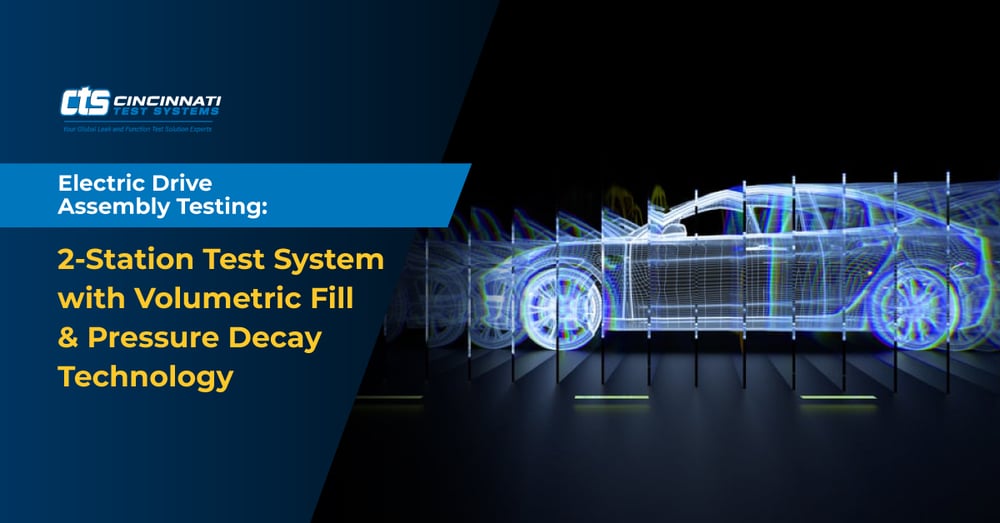 Case Study: Electric Drive Assembly Testing
In need of a way to leak test their automotive electric drive assemblies, a customer recently contacted Cincinnati Test Systems (CTS) for a solution.
The parts were completely sealed, meaning that certain testing processes were not feasible. With that in mind, we provided a volumetric fill/pressure decay leak tester that is designed specifically to test sealed parts.

To maximize the customer's testing throughput, we built a two-station, manual loading system that enables two tests to be run simultaneously. The design allows for loading/unloading of a part in one station while the other is performing a leak test; both stations can perform tests at the same time, if needed. Part loading and unloading is quick and easy, taking just a few seconds per part. These factors combine to give the customer nearly double the productivity of a single-station tester.
Electric Drive Assembly Testing: Reliable Two-Station Testing with CTS Sentinel I28 Leak Test Instruments
Each test station features an independent Sentinel I28 leak test instrument. The entire system is controlled via a single, easy-to-use Siemens Simatic interface. The I28s perform and monitor testing, and all messages are communicated to the Siemens HMI and displayed on the operator panel.
An integrated bar code scanner at each test station identifies and tracks parts during testing, and any rejected parts (those failing the leak test) are tracked and stored in a secured drawer. Once a part is loaded and the test is initiated, the bar code scanner automatically reads the part ID to ensure that the part is being tested using the correct test program.
The part is then clamped, the test chamber is sealed, and the leak test begins. Each leak test is a two-step process. First, volumetric fill testing determines the part has a gross leak, as determined by pre-set upper and lower pressure limits. A part that passes the gross leak test moves on to pressure decay testing. Pressure decay testing checks parts for fine leaks, based on a pre-set leak rate pressure level.
A part that passes both tests is indicated with an "ACCEPT" message and illuminated green lights; if a part fails either the gross or fine leak test, the test cycle ends with a "REJECT" message and red illumination. This provides an all but foolproof method of monitoring good and bad parts. Additionally, all test results are automatically recorded and saved in the I28's internal, time-stamped memory log, and are uploaded to the Siemens controller.
The World's Best Leak Test Instruments
Cincinnati Test Systems is a world leader in the design, engineering, and manufacture of high-sensitivity leak test instruments. Our versatile and easy to use leak test systems provide accurate and reliable results in even the most demanding applications.
Contact us today to discuss your leak testing needs.